Portage: The Canadian Mobile Experiment
In this project, generously funded by Heritage Canada, we sought to expose urban surveillance technologies as well as the digital divide in street-based, locative projects built for and exhibited on John Street–the creative culture district in Toronto. 
We created a range of interactive games, musical instruments, and sculptural art pieces for use by individuals of all ages, can use their cell phones or  just their hands (to play them physically) to interact with the pieces.  The project also experimented with the potentials to create mobile digital art pieces that could engage stored data caches or sensors (which at that time were additional tools added to installations and not embedded in phones) to create engaging interactive art experiences.
Creative Leads: Paula Gardner and Geoffrey Shea 
Sculpture: Leigh Ann Pahapill, Writer: Jim Munro;
Researchers: Patricio Davila, David MacIntosh, Norman White,
Coordinator: Jennie Ziemianan ;
Developers: Rob King, Ken Leung, Peter Todd;
Research assistants: Jennifer Johnson, Bryn Ludlow, Serena Lee, Yvon Julie.  
Video documentation of the complete John Street Portage installation (6 mins)
Locative, Interactive, and Art Sculptures in the John Street Installation:
Bike Lock Percussion: Yes, Sidewalk Jamming
Sculptor and Lead Designer: Leigh-Ann Pahapill
The city bike locks (former hydro poles refitted as bike locks) were refitted by our team to create instruments for making percussive music manually or digitally. To play manually, users depress the foot plate to create a percussion beat on the bike lock. Individuals can also phone the number provided (as a sticker on the bike lock) which transforms the user's phone into a playing pad. Users can depress numbers on their phone to create a percussion rhythm that is played by tuned cowbells on the bike lock. The bike locks were created with different keys so that users could play the many of them simultaneous to create music/synchronized sound . For additional documentation, see drum machine documentation video below (1min 23 sec)
Life-Sized Glockenspiel Instruments
Sculptor and Lead Designer: Leigh-Ann Pahapill
Players can engage manually, using provided playing wands or can call the number printed on the glockenspiel , which will play the melody automatically. (The glockenspiel has solenoids installed beneath it that are operated by an algorithm triggered by the phone call) on their phone and using keys to create a rhythm, that the glockenspiel then plays. Adjacent to the glockenspiel is a pressure sensor pad; when players stand here to play the instrument, it elicits addresses of hidden CCTV cameras on on John street. For additional documentation, see locative xylophone (1 min 4 sec)

Later Iteration: Cell Phone Xylophone, 2008
In this deconstructed version of the John Street Glockenspiel, viewers simply dial a toll free number and are then prompted to enter key presses. The patterns they enter correspond to arpeggios and loop several times. Their phone connects to a VOIP service which delivers their key presses to an Asterisk server which relays them to the control machine wired up to the xylophones custom controller board. This version was presented at MobileFest in Sao Paolo, Brazil. 
Lead Creative: Patricio Davila 
Lead student researcher: Peter Todd
This project uses passive experiences to call attention to the EMF (electromagnetic frequency) garbage common in city spaces.  In this project, a critical mass of people passing by a tree in Grange park, who happen to be carrying a blue-tooth enabled mobile device, trigger a cacophony of squawking cicadas in a tree. The swarm of bluetooth device carries, as such, incites the noise garbage produced by the swarm of electronic (mylar) cicadas – who chirp, and light up in response; the greater the swarm of passers-by, the more vigorously the cicadas will respond.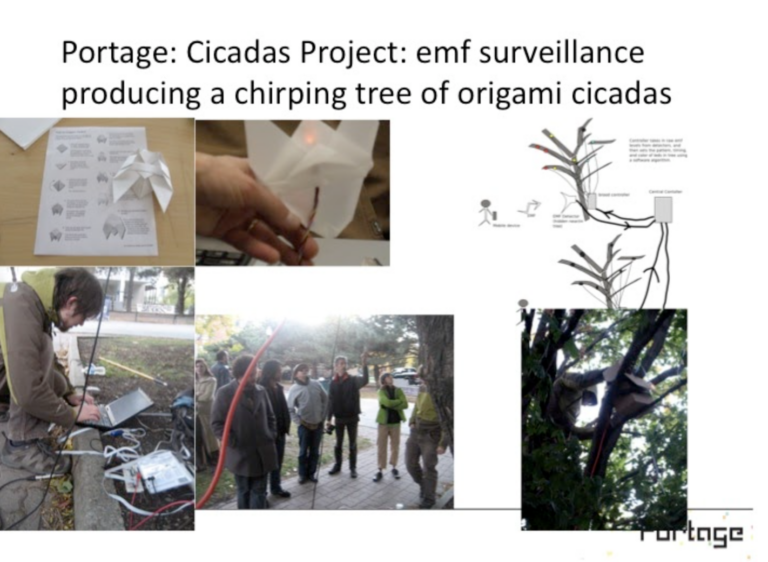 Camera Prowl— the goal is to find hidden CCTV cameras on John Street, following clues sent to the mobile phone.  As players find cameras, a card on site provides clues to the next hidden camera.  At the end, players are led to the cicada tree (which surveils Bluetooth sensors rather than CCTV cameras), where they are prompted to open the birdhouse to set free the digital cicada, who chirps thank you in response. For additional documentation see camera prowl game video below: 40 secs.
A bike wheel is displayed inside a popular bike shop on John Street; outside a digital screen is visible that invites players to wave their hands over 4 digital and a suspended actual wheel;. This elicits players staring the image in the window and waving frenetically; when the player is a successful, a message congratulates them, and alerts them that their picture has been taken (without prior consent) and is displayed in 4 photo frames— 1 of which is in our research lab, suggested unwarranted image capture. Subjects are then alerted that the image will disappear shortly and can be accessed by them alone, via texting a phone number. The project is a comment on the hundreds of CCTV cameras on John Street that capture and archive passersbys' images. It employs a playful game to attract players and encourage reflection of unconsented public surveillance by ubiquitous CCTV and other sensor devise (For additional document see No Touch Bicycle video below 1:51 min)
Newsbox: You Make The Call
Lead student designer: Ken Leung
We repurposed a city newsbox with a mobile-digital version. Users can text to the box to add their own headline and image. As well, in the cicada camera prowl game, players who rescue the jailed cicada have their image relayed to the newsbox with the caption "Hero!"

Gardner, P., Shea, G., and Davila, P., Locative Urban Mobile Art Interventions; Methods for facilitating politicized social interactions. Aether: The Journal of Media Geography. 5B, 2010
Other Relevant publications/conference proceedings:
Shea, Geoffrey. Artifact or Experience: Presenting Network Mediated Objects, Interacting with Immersive Worlds Conference, Brock University, June 2009
Gardner, Paula, Geoffrey Shea, David MacIntosh, Eds. 2008. The Portage Handbook: Lessons in Mobile Experience Design and Development. Ontario College of Art & Design, Toronto. (90 pages; self-published)
Geoffrey Shea, Portage: Locative Streetscape Art, International Multimedia Conference, Proceeding of the 16th ACM International Conference on Multimedia, Vancouver, 1131-1132, 2008
Shea, Geoffrey. i = i + 1: Participatory Art and Design, Inter(pr)axis Conference, Toronto, 2008
Shea, Geoffrey and Patricio Davila. Catastrophe, conference presentation at DigiFest, Design Exchange, 2008
Geoffrey Shea and Paula Gardner. PORTAGE: A Locative Streetscape Theatre, at Bauhaus-Universität, Weimar, Germany, 2007